This page is from Dental Insurance In Florida's home page.  The DentalInsuranceInFlorida.com website is now part of  DentalInsuranceAdvice.com We have created a category for all the old articles. 
Dental care is a big part of the health issues today. It is very important in our life as teeth are not renewable.  Consider these 2 points:
Teeth are essential for the chewing of our food prior to entering our digestive system.  Needless to say this has an impact on our overall health.
Healthy teeth contribute a lot to a persons beauty.
Nowadays, many people have started to think deeply about this. As a result, the insurance companies have specific health plans that cover dental issues.  As these plans vary state by state, so we want to look at Dental Insurance In Florida.
Why Do I Need Dental Insurance?
In general, dental coverage is not included in health insurance plans. However, our oral health, hygiene of our teeth and smile are some of the most important features on our face that we should pay lots of attention to. Even though the economy is bad, it is still very important for us to look for dental plans for ourselves and our family members. Below are some important facts you need to take note if you think that having dental plan is a waste of money.
Fact 1 – Taking proper care of your teeth and gums requires more than brushing and flossing every day. We need to have a dental exam and teeth cleaning every 6 months. Teeth cleaning and fluoride treatments help to prevent serious and costly dental works such as extractions, root canals and oral surgery.
Fact 2 – A recent Gallup poll found that more 30% of Americans did not visit a dentist in year 2008. Among these people, 57% of them have untreated tooth decay.
Fact 3 – The market rate for teeth cleaning is approximately $165 and the cost of filling is around $110.
Fact 4 – In United States, the average cost of dental procedures ranges from $300 per year for regular dental care to $25, 000 or higher for major dental procedures.
Florida's Oral Health and Well-Being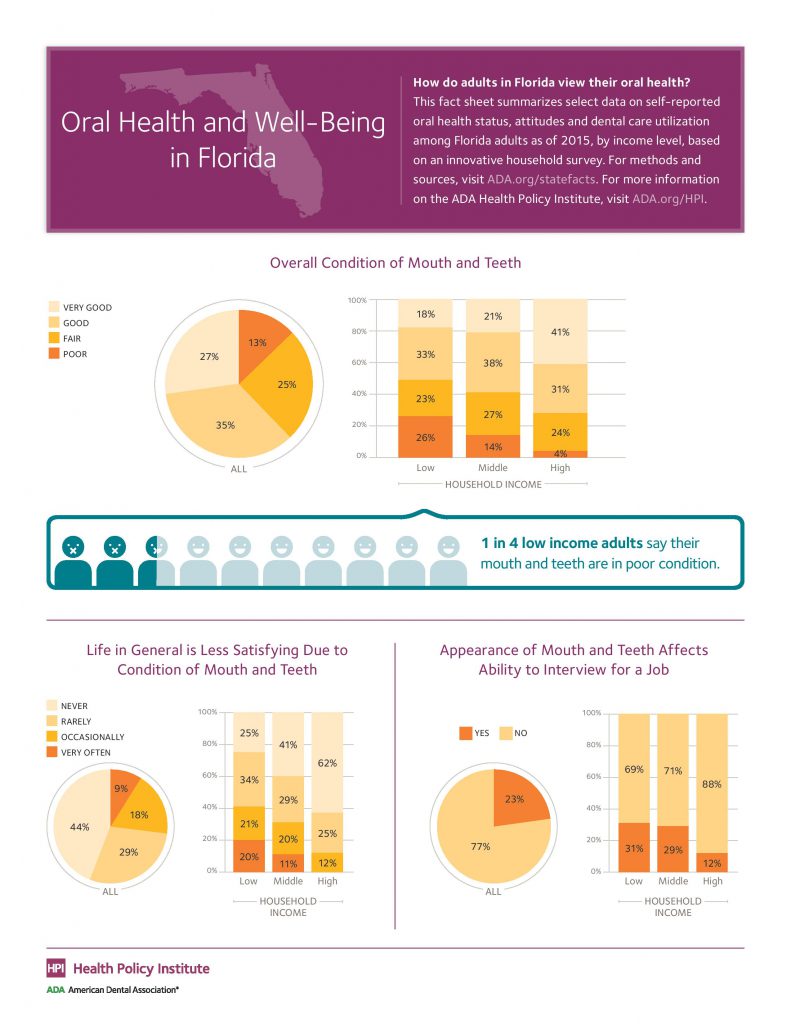 Without having a dental insurance can lead to several consequences. For people who are not covered by oral health coverage, they tend to skip their preventive care visits. In fact, they are running the risk of bacteria and plaque damaging their gums and teeth. Most probably the tooth decay, cavities and gum disease would leave them with missing teeth, bad breath and bad smile.
An Overview of Dental Care Insurance
Dental care insurance is indeed important for those people whose work is related to beauty smile. The professions like air steward and air stewardess, actor and actress, public relation officer, singer, beautician, model, broadcaster, etc, need regular dental care and teeth maintenance. This type of insurance is to fulfill their requirements to cover all the dental bills.
Under this health plan, all the dental issues are clearly specified and fully covered. Even regular checkups are covered. Indirectly it has encouraged the policy holders to go for checkups frequently to maintain a baseline of dental health. Besides, one of the main treatments that covered by the insurance is the cleaning treatment which protects the teeth from all types of infections.
Dental bills can be a burden to many people as the fees charged by the dentists are high for certain treatments. For instance, the stainless steel teeth braces which are used to correct abnormal or tilted tooth are quite costly. Besides, the costs of certain types of crown dentures are high too.
Dental care is something shouldnt be neglected because it may affect a persons health condition. Poor dental care may lead to a whole host of infections and serious diseases. Never neglect infected gums as they may lead to heart disease. Moreover, dental pain is hardly tolerable.
Before you teeth begin to deteriorate, take a preventive action. Get yourself dental care insurance plan that provides full coverage to your teeth. This plan can be obtained easily and generally the premium can be affordable by most of the people. A beautiful smile starts from clean and healthy teeth.
Dental insurance in Florida is designed to assist people to cover the costs associated with dental care. In today's fast changing world, the cost of dental treatments ranges from $300 per year for regular dental care to $25,000 and above for complicated dental procedures. The increasing dental cost has prevented many Americans from receiving regular check up and necessary dental treatment. Hence, by obtaining a dental plan will be helping them to overcome this issue.
There are many oral health plans in the market. Lets take a closer look at a few of them.
This typical plan allows you to select your own dentist. It is considered fee-for-service package which comes with limitations and co-payment options. For instance, an annual coverage amount has been set for your dental spending. Besides, there are specific coverage limits that may apply to individual dental procedures.
This plan is quite similar in nature with indemnity plan. However, you might not be given freedom to select your own dentist.
Under this plan, you are offered for limited services. The number of dentists available for you is limited and you can only use a specific group of facilities.
Preferred Provider Organization (PPO)
This common plan is designed for people who are searching for low cost plan. The policy holders are limited to a group of dentists who are available to provide dental care at a reduced cost. For people who are having tight budget, they are recommended to take this plan.
Direct Reimbursement Plan
This particular plan allows the employers to reimburse their employees for the dental services they receive directly.
How to Obtain Dental Insurance Quotes Easily
In order to be a healthy person, oral health must be well taken care of. It is important for a person to obtain dental care plan as the cost of maintaining dental health at tip top condition is always high. By having this type of coverage, you don't need to worry so much about the high expenses in the future. If you still haven't got any dental plan, there is an easy way for you to find out the details of the plans, i.e. through internet. Now, lets see the following steps which guide you to obtain dental plan quotes easily and accurately.
Step 1 – Browse the internet to obtain a list of the websites of some popular dental insurance providers. (We have done this here with our list of Dental Insurance Providers.)  It is important for you to get into the websites which allow you to get quotes.  You may find it more convenient to obtain quotes through the internet rather than making many calls to the insurance agents to check the prices.
Step 2 – Go through carefully the information provided in each of the websites to find out different types of coverage and the premiums. You need to evaluate your own requirements whether you need maintenance plan or just a supplemental plan.
Step 3 – Shortlist the insurance providers which offer the dental plans that suit your needs and budget.
Step 4 – Compare the premiums. Evaluate the benefits offered as well as the exclusion clauses. Besides, it is important for you to study the coverage clauses closely. A good rule of thumb is to obtain good policy which provides you adequate coverage at an affordable rate. If you really have tight budget, then you are advised to opt for low cost maintenance plan.
Step 5 – Make your final decision. Once you have obtained your policy, start utilizing your benefits.